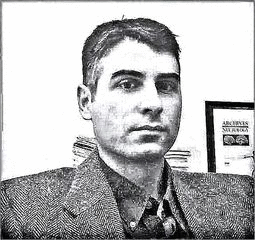 Dr. Ivo Dinov is
SOCR
Director and professor of Health Behavior and Biological Sciences, and Computational Medicine and Bioinformatics. He is an expert in mathematical modeling, complex time (kime) and spacekime theory, statistical analysis, computational processing, scientific visualization of large datasets (Big Data) and predictive health analytics. His applied research is focused on informatics, multimodal biomedical image analysis, and distributed genomics computing. Dr. Dinov is a member of the
Michigan Center for Applied and Interdisciplinary Mathematics (MCAIM)
and a core member of the
University of Michigan Comprehensive Cancer Center
.
Examples of specific research projects Dr. Dinov is involved in include spacekime analytics using fMRI data, longitudinal morphometric studies of development (e.g., Autism, Schizophrenia), maturation (e.g., depression, pain) and aging (e.g., Alzheimer's disease, Parkinson's disease). He also studies the intricate relations between genetic traits (e.g., SNPs), clinical phenotypes (e.g., disease, behavioral and psychological test) and subject demographics (e.g., race, gender, age) in variety of brain and heart related disorders. Dr. Dinov is developing, validating, and disseminating novel methods (e.g.,
spacekime analytics
) and technologies (e.g.,
CBDA
,
DataSifter
,
TCIU
) for mathematical modeling, statistical computing, biomedical applications, scientific education, and active learning.
Prof. Dinov is Co-Director of the multi-institutional
Probability Distributome Project
(since 2008) and (interim) Associate Director, Precision Health (PH), Education and Training Workgroup (2022).
In the past, Dr. Dinov served as Director of the
Integrative Biostatistics and Informatics Core
,
University of Michigan Nutrition Obesity Research Center (MNORC)
(2014-2020), Director of the
Biostatistics and Data Management Core, University of Michigan Udall Center for Excellence in Parkinson's Disease
(2014-2022), Co-Director of the
Center for Complexity and Self-management of Chronic Disease (CSCD Center, 2014-2021)
, Associate Director of the
Michigan Institute for Data Science (MIDAS, 2015-2022)
, and Associate Director of the
Michigan Neuroscience Graduate Program (NGP, 2019-2021)
. A
short biosketch is available here
.
Publications
Education
EBooks
Software
Research
News/Events