| | | | |
| --- | --- | --- | --- |
| Years | Institution | Role/Degree | Field |
| 2013-Present | University of Michigan, Ann Arbor | Faculty | Health Behavior and Biological Sciences, Computational Medicine and Bioinformatics, Data Science |
| 2001-2013 | University of California, Los Angeles | Faculty | Statistics and Neurology |
| 1998-2001 | UCLA School of Medicine | Postdoctoral Fellow | Computational Neuroscience and Brain Mapping |
| 1993-1998 | Florida State University | PhD/MS | Mathematics/Statistics |
| 1993-1998 | Florida State University | Pre-doctoral fellow | Industrial engineering/Optimization |
| 1991-1993 | Michigan Technological University | MS | Mathematics |
| 1987-1991 | University of Sofia, Bulgaria | BS | Mathematics and Informatics |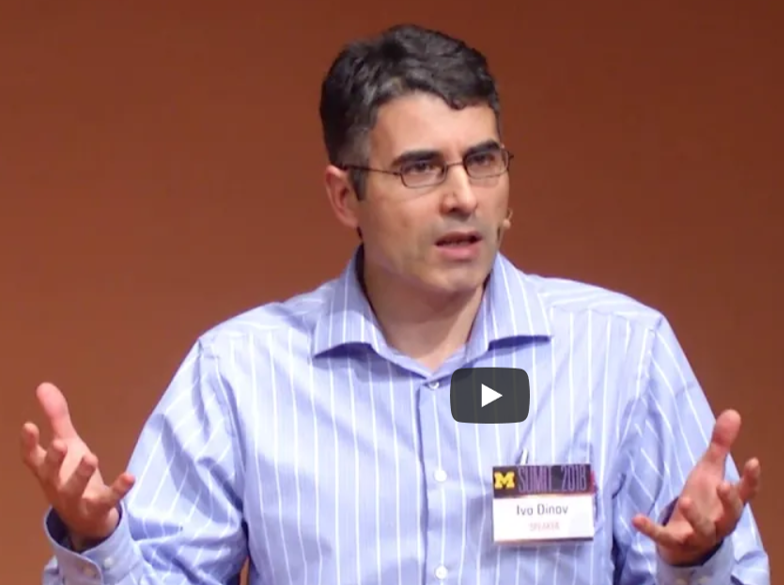 Dr. Dinov's mathematical geneology linage starts with (1)
Manuel Bryennios (Greece)
and
Cristoforo Landino
(Italy) in the 14
th
century, and includes
Jacob Bernoulli
(1696),
Leonhard Euler
(1754),
Pierre-Simon Laplace
(1800),
Solomon Lefschetz
(1911),
Fred Huffer
(1982), and
De Witt L. Sumners
(1967). This
partial dynamic graph illustrates Prof. Dinov's academic heritage
and here is his
NIH Biosketch
.
Dr. Ivo D. Dinov is a professor of Health Behavior and Biological Sciences and Computational Medicine and Bioinformatics at the University of Michigan. Dr. Dinov is a member of the
Michigan Center for Applied and Interdisciplinary Mathematics (MCAIM)
and a core member of the
University of Michigan Comprehensive Cancer Center
. Dr. Dinov's
GoogleScholar Profile
and
Michigan Experts Profile
provide additional technical information about his scholarly work.
Prof. Dinov serves as:
In the past he served as:
Dr. Dinov's memberships in professional societies include: